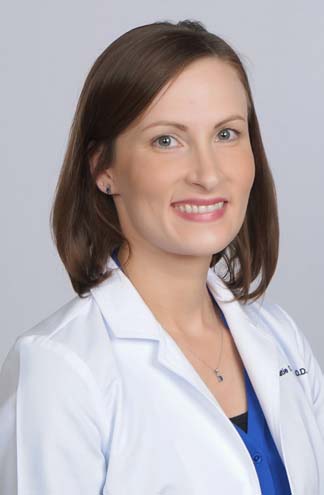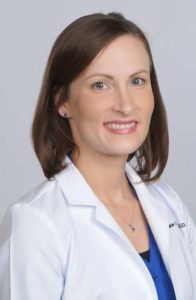 As children, Dr. Katie Fisher and her brother completed Vision Therapy to correct vision problems not successfully treated with glasses alone; vision problems that had caused learning difficulties and behavior changes. Dr. Fisher's childhood Vision Therapy experience inspired her to become passionate about children's vision and learning, motivating her to pursue a career as a developmental and behavioral optometrist.
Dr. Fisher was born and raised by her music teacher mother and farmer/rancher father in Pratt, KS. She graduated from Pratt High School in 2003, then obtained her Bachelor of General Studies in Human Biology with a Concentration in Psychology from the University of Kansas (KU) in Lawrence, KS, in May 2007. In May 2012, she earned her Doctor of Optometry degree, graduating with honors from the oldest continually operating college of optometry in the United States, the prestigious Illinois College of Optometry (ICO) in Chicago, IL. While at ICO, Dr. Fisher served as Secretary for ICO College of Optometrists in Vision Development Club and was a member of the Beta Sigma Kappa International Optometric Honorary Society as well as the recipient of the Vision Service Plan Excellence in Primary Care Scholarship.
In June 2013, Dr. Fisher successfully completed the fully accredited, 12-month, post-doctoral, private practice optometric residency program at Child and Family Eyecare/Wichita Vision Development Center in Wichita, KS, and received her Certificate of Residency in Pediatric Optometry/Vision Therapy and Rehabilitation from the affiliated Southern College of Optometry in Memphis, TN. During her residency year, she managed Vision Therapy programs for hundreds of patients, served as a credentialed staff doctor at two large rehabilitation hospitals where she provided hospital-based, neuro-optometric Vision Rehabilitation consultations for hundreds of patients recovering from traumatic brain injuries, strokes, and neurological disorders, then worked alongside physical, occupational, and speech therapists recommending therapy activities that improve vision problems.
Dr. Fisher is the owner of Sunflower Vision Development Center, which opened in April 2015.
Katie D. Fisher, OD, FCOVD is a developmental and behavioral optometrist, board certified in Vision Development and Vision Therapy and licensed in Kansas and Missouri. Dr. Fisher is a Fellow of the College of Optometrists in Vision Development (COVD) and an active member of Kansas Optometric Association (KOA), American Optometric Association (AOA), InfantSEE® managed by Optometry Cares® – the AOA Foundation, Neuro-Optometric Rehabilitation Association (NORA), Optometrists Network and Optometric Extension Program Foundation (OEPF). Dr. Fisher enjoys learning and takes pride in attending the most current education and training needed to best serve her patients of all ages.
In her free time, Dr. Fisher loves spending time with her husband, Jason, their daughter, Ellie, and their two four-legged sons, Opie and Fred. She also enjoys rooting for her beloved KU Jayhawks and visiting her family and friends.
Brittney Langford, Vision Therapist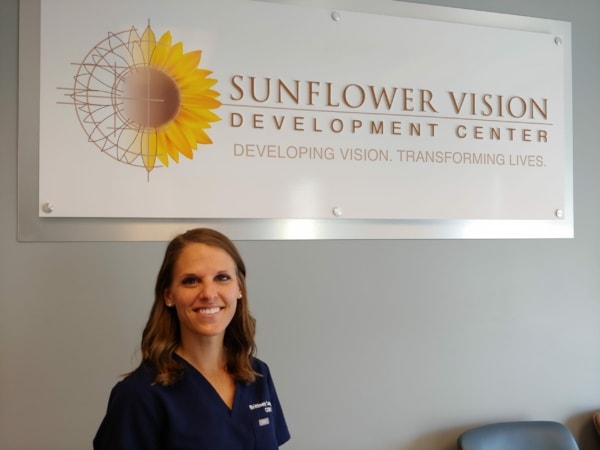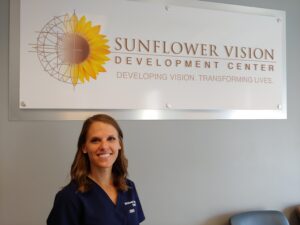 Brittney Langford joined Sunflower Vision Development Center in January 2022.  Brittney is a valuable asset to the practice;she brought 10 years of experience as a vision therapist and is extremely knowledgeable and passionate about Vision Therapy.  Brittney was raised in the Midwest, mostly Iowa and Kansas, with her two brothers.  After completing physical therapy due to an ACL injury as a senior in high school, she knew she wanted to continue helping others in a similar way.  While attending the University of Kansas (KU), she started working at Crandon and Crandon Optometry in Lawrence, KS and quickly fell in love with Vision Therapy.  Brittney became a vision therapist and, under the direction of Elizabeth Crandon, OD, FCOVD, coordinated and facilitated hundreds of Vision Therapy programs.  With her knowledge and experience as a vision therapist, Brittney obtained board certification and became a certified optometric vision therapist through the College of Optometrists in Vision Development in 2019.  Since Dr. Crandon's retirement in November 2021, Brittney has enjoyed continuing to assist in the care of Vision Therapy patients as a certified optometric vision therapist under the direction of Katie Fisher, OD, FCOVD.
In her free time, Brittney loves spending time with her husband, Jonathan, and their three boys, Jon Carlos, Julian, and Jugo.  Brittney's family keeps her busy with school events, sports, and family/friend time.  Brittney and her family enjoy KU events, Sporting Kansas City games, and traveling.
Schedule an Appointment
Call us today with questions or to schedule your appointment.